UPS Power Solution is delighted to announce the winner of the 'Level Up With Eaton' prize giveaway that ran in J.A. Russell branches around the country throughout February and March.
Auckland's Oceans Electrical Ltd was the lucky J.A. Russell Ltd customer who purchased Eaton UPS products and won the prize draw, taking home a stand-up arcade machine packed with 3,000 games.
Chad Seager from Oceans Electrical was thrilled with the new addition to the workshop for his team.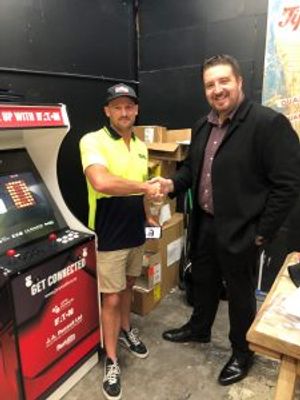 Chad received the arcade machine from Stuart McColl, J.A. Russell Ltd National Data and Technology Manager.
J.A. Russell Ltd, along with Eaton and UPS Power Solutions continue to come up with great prizes for customers, especially activities that bring teams together.
Customers can currently go in the draw to win one of two full size table-tennis tables so click here to find out more or visit your J. A. Russell branch and pick up a copy of @Source magazine.
Huge congratulations to Chad and the team at Oceans Electrical.