NZ Defence Industry Awards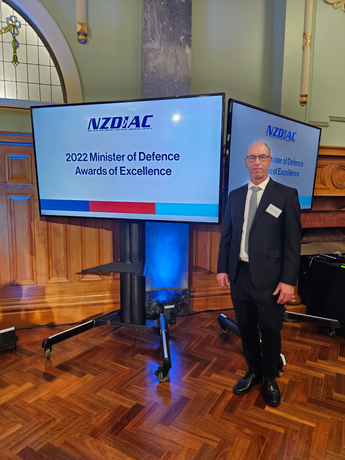 We are extremely proud to announce that UPS Sales Director, Graham Blackmore was nominated for a New Zealand Defence Industry award at the Minister of Defence Awards of Excellence presentation held in Wellington at the Grand Hall, Parliament earlier in May.
Though Graham was unsuccessful in winning the award, we want to recognise and congratulate the significant achievement of being nominated for his excellent work and contribution to the continued defence of New Zealand.
The Minister of Defence Awards of Excellence to Industry were established in 1998 to highlight and reward the contribution made by industry to Defence. The Awards are administered by the New Zealand Defence Industry Advisory Council (NZDIAC) on behalf of the Minister of Defence.
New Zealand Defence Minister, Andrew Little, congratulated the businesses and individuals recognised for their exceptional services to Defence in New Zealand.
"They have gone above and beyond expectations, showing a spirit of partnership with Defence that builds outstanding innovation and leadership. The range of businesses and people receiving awards shows just how varied and highly skilled the defence industry in New Zealand is, says Little.
Many of the finalists and recipients represented small to medium sized businesses, which have supported the growth of Defence supply chains across the country with their investment, engagement and training.
We would like to also congratulate the other finalists and eventual winners of the awards which were presented at a public event for the first time. We look forward to future events and are excited that Blackmore's commitment to delivering power quality expertise throughout New Zealand continues.
For more information, go to https://www.defence.govt.nz/industry-working-with-defence/awards/2022